Girls Lacrosse Prove to Be A Tough Win
Four years into their program, the lacrosse team has made huge strides from their first season until now. A team that at first struggled to gain respect is now earning well deserved attention.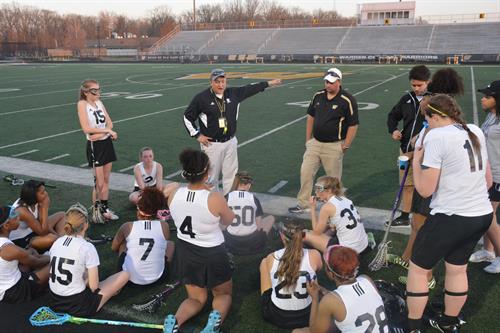 The lady Warriors played their first game on March 9 against the defending state champions Noblesville. Struggling to secure their first win of the season the Warriors lost their season opener 2-13.
The following Saturday the ladies rebounded from their first game, and had a dominating win over Castle High School winning 16-8.
On April 16 the ladies faced the Cathedral Irish of the strongest teams in the state. The ladies struggled to set their offense and lost 1-11.
"I am very encouraged with the way we have played our first few games," Head coach Gary Roberts said. " We beat the two teams that we should have beaten and played very well against Noblesville and Cathedral, two of the best teams in the state."
After spring break the ladies came together and put up their biggest winning streak the season so far. On April 12 the Warriors beat Brebeuf Jesuit 8-6.
"Our biggest team goal I would say is showing everyone how far our lacrosse program has come in the past four years," senior Angelica Page said. "I feel that we've been wanting to play harder teams like Brebeuf and others that we know will challenge us so we can see what we need to work on and build from that."
The seniors have been instrumental to the team's success.
"Our captains this year are Erin Montgomery, Jayla Boyd and Elizabeth Reasoner," Roberts said. "But we have a lot of seniors who do their part when it comes to leadership."
On April 15 the ladies won their second game in a row with a score of 9-6. The next day the warriors played Homestead High School and dominated. Winning with a final score of 15-5 the ladies proved they do have what it takes.
Playing twice in the same day the Warriors played Bloomington and pulled out another victory winning 12-3.
"The biggest difference this year is that we are more experienced," Roberts said. "Each year we start out in a better place than the year before. The important thing this season is that we continue to get better."
The ladies play their next game, senior and pink night, on April 25 against Center Grove.
LACROSSE TEAM COMES together after a timeout in a tough matchup against Noblesville. The girls are currently 7-5 in their season.
Photo by Destini Ross