Wrestling State Champions
It was one for the books.
Warren Wrestling capped off a historical season filled with new coaches, new records, and an avenged team state loss ending their amazing State tournament run with their first State Championship since 1980.
Warren wrestling started off the post-season push with the IHSAA Sectional at Shelbyville. The Warriors dominated the meet with 12 out of their 14 Varsity wrestlers earning Sectional titles.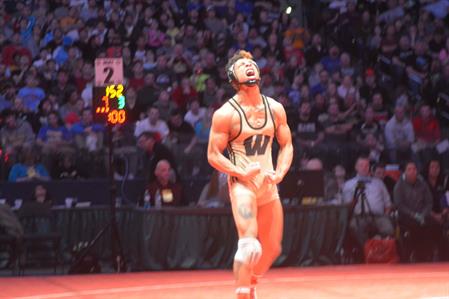 The 12 included Keyuan Murphy (106 pounds), Dylan Culp (120), Matt McKinney (138), Trent Pruitt (152), Dominic Herrick (160), Dezmen Goddard (170), Devon Blount (182), Tristen Tonte (195), Cornelius Knox-Abbott (220), and Jasion Brogan (285).
Along with the 12 advancing to the Regionals at Perry Meridian, the team itself advanced placing first with 321, setting the record for the most points scored ever in an IHSAA Sectional. The Warriors were followed by Greenfield-Central 163, New Palestine 157.5, Roncalli 138, Franklin Central 128.5, Mt. Vernon 95.5, Beech Grove 80, Triton Central 43, Shelbyville 34, Lutheran 18, and Marshall 0.
The team then went on to compete in Regionals hosted at Perry Meridian. The boys had seven wrestlers earn a Regional title including Murphy, Joel McGhee (126), Mckinney, Goddard, Devon Blount (182), Tonte, and Brogan.
Along with the seven individual winners the team earned their first Regional title since 2005. The boys also went on to win Semi-State with four individual titles from Murphy, Culp, Pruitt, and Tonte
Over the weekend the boys competed in the biggest, and for the seniors, possibly the last meet of their high school wrestling career: State.
Friday night the Warriors went eight for eight advancing all their wrestlers to Saturday. The Warriors also ended day one in first in the team standings with 28 points followed closely by Brownsburg, who upset the Warriors at Team State earlier on in the season, with 23 points.
Saturday started off rough for the Warriors. They dropped four wrestlers early, advancing only four wrestlers to the championship matches that night. Culp, Turner, McGhee, and Goddard went on to wrestle for fifth through eighth with Culp and Goddard taking home seventh and McGhee and Turner taking home fifth.
The championship matches were emotional for the wrestlers from start to finish. Keyaun Murphy faced Avon's Asa Garcia and was pinned late in the match resulting in his State runner-up finish.
Next for the Warriors was Matt Mckinney who wrestled Brayton Lee of Brownsburg. Injuries got the best of Mckinney and Lee won by technical fall resulting in Mckinneys State runner up finish.
Tristan Tonte wrestled at 195 and lost in a 9-5 decision to Jake Kleimola of Lake Central and finished State-runner up for the second year in a row.
The Warriors only State Champion was Senior Trent Pruitt at 152. Pruitt won in a 7-3 decision against Steven Lawrence of Portage. He finsihed out his high school career 45-2 and with a first place finish.
In the team race the Warriors set, yet again, another record for scoring the most points in a State finals meet finishing with 105.5 points followed by Brownsburg with 83.
"I believe Warren can be a Powerhouse," head coach Jim Tonte said when asked why he took the position at Warren.
Guess Tonte knew what he was talking about.
Final Results
Keyaun Murphy (106)- State Runner-up
Skylour Turner (113)- fifth place
Dylan Culp (120)- seventh place
Joel McGhee (126)- fifth place
Matt Mckinney (138)- State Runner-up
Trent Pruitt (152)- State Champion
Dezmend Goddard (170)- seventh place
Tristan Tonte (195)- State Runner-up
Team Score: 105.5 State Champion
SENIOR TRENT PRUITT celebrates State Championship win in the 152 lbs weight class. Pruitt ended his high school career 45-2.
Photo by Josh Wall
WRESTLERS HUDDLE AROUND the State Championship plaque and hoist it into the air. This was the team's first State win since 1980.
Photo by Josh Wall