Warren Central lost 2-3 to Lawrence Central in Sectional play today, however Ashley Jarels and Morgan Oconitrillo move on in doubles by defeating their opponents 7-5, 6-3.
Read more →
The girls tennis team has had a rocky to their season thus far but are quickly picking up the momentum and are starting to turn things into their favor.
With a big win against Greenfield Central, assistant coach Samantha Tantillo is excited about the future for this girls team.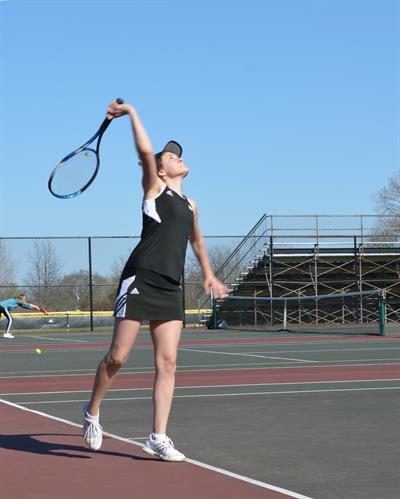 "We have made an overall improvement from the offseason into our first couple of games," Tantillo said. "With a majority of the Varsity being either underclassmen or girls who are just now learning the game, it has been a challenge to get them up to speed. We have also been working to ensure that we build up on the skills of the girls who have been here for a couple years."
One key player to this Warrior team is junior Delia Villatoro. Villatoro has held the No. 3 singles position for two years now and has just this season made the jump to the No.1 spot.
"It has been stressful," Villatoro said. "I have had to work ten times harder than I did before and be aware of the girls who have private lessons and have played all their life. I just try to focus on making my shots and playing tough in every match."
Mental toughness, among other things, has been one thing the coaches and the players have been focussing on throughout their offseason and regular season. With most of their conditioning workouts being inside, it has been a huge difference to finally come outside and work with the weather and learn how to use it to their advantage.
All in all, the girls tennis team is making strides and will have the chance to pick up another win on the season this Saturday at Martinsville at 10 a.m.
JUNIOR DELIA VILLATORO SERVES before a regular season match-up against Franklin Central. Villatoro is No. 1 singles for the girl's and is a vital member to the varsity lineup.
Photo by Angelica Page
Read more →